Pictured above: IMC's Nursing Leadership Team – (Anna, ER; Jaime, Clinic; Kari, Med/Surg; Bobbi, Director of Nursing; Lauralei, Home Health; not pictured Debbie, OR)
We are always seeking the highest level of talent to join our team of experienced and dedicated professionals who promote our culture of care. Indianhead Medical Center (IMC) is a 25-bed critical access facility that has been providing quality care to the surrounding communities for over 70 years. Services include inpatient, outpatient, clinical, surgical, rehabilitation with extensive inpatient and outpatient therapies, and emergency care.
Our accredited hospital with 24/7 emergency access and newly constructed and busy medical clinic are nestled in the charming Northwest Wisconsin town of Shell Lake. Enjoy the small community living with ample opportunities for outdoor recreation, quaint town shopping experiences, and exceptional local restaurants, breweries and coffee shops.
If you want to be part of an exciting and stimulating environment that will challenge you to take your career and life to the next level, we invite you to join us today!
Indianhead Medical Center provides you with the benefits you need and the work/life balance you deserve!
A Day in the Life at Indianhead Medical Center
Welcoming co-workers who share in a caring and compassionate mind-set
IMC promotes a work/life balance with shift and schedule options
Enjoy excellent meal options at a low cost for employees
Be a part of serving our communities with a standard of excellence in patient care
Why Indianhead Medical Center?
Accredited 25-bed critical access hospital and busy, well respected medical clinic
Newly constructed Emergency Room and Clinic
Wonderful small town community with highly respected schools
Rural location with ample opportunities for all year round outdoor recreation
Career growth and ample training opportunities
Healthcare benefits (medical, dental, vision, life), 401(k) match, employee discounts and generous PTO, some positions include a sign on bonus opportunity!
To apply for employment at Indianhead Medical Center, please complete the Job-Application OR send your resume to cdavid@indianheadmedicalcenter.com.
We are currently seeking the following talented individuals to join the IMC Family:
Registered Nurse (Med/Surg, ER Float) (Full-Time 3×12's or Part-Time 2×12's) Night Shift
Radiology Tech, ARRT (Full-Time or Part-Time)
Housekeeper/Custodian (Part-Time or Full-Time)
Registered Dietitian Consultant (PRN Status)
CRNA (PRN, as needed status)
Medical Doctor – Family Practice & ER (Full-Time)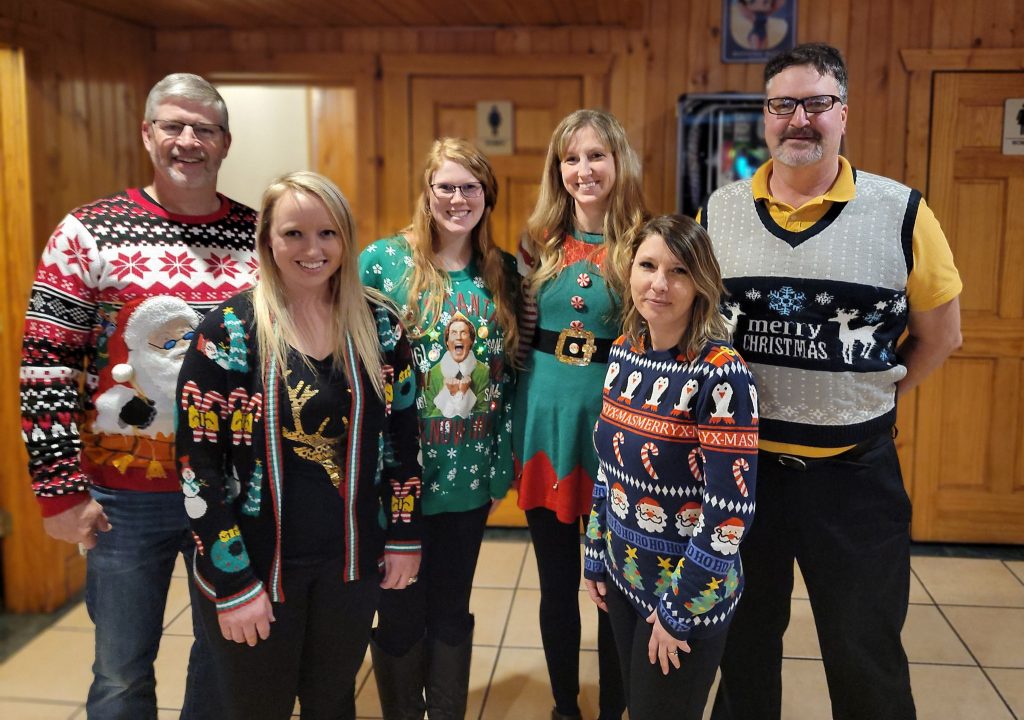 Therapy Department enjoying our Employee Christmas Party!
I love IMC because we provide the small town family feel for patients and staff. So often in a technology world you lose the personal touch, IMC has held onto a friendly personable atmosphere. Jenny, Med/Surg/ER