Shell Lake Clinic
Phone: (715) 468-2711
Fax: (715) 468-2727
Hours: 8 to 5 Monday to Friday
Address: 113 4th Avenue, Shell Lake, WI 54871
Siren Clinic
Phone: (715) 349-2910
Fax: (715) 349-2995
Hours: 8:30 to 4:30 Monday to Friday
Address: 24670 State Road 35/70, Suite 100, Siren, WI 54872
CLINIC PORTAL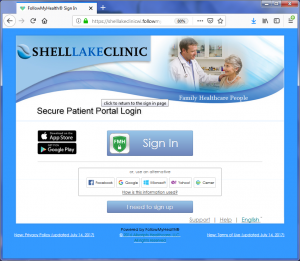 If you visited the clinic then you will want to go to the clinic portal HERE.
Or go to https://shelllakeclinicwi.followmyhealth.com
The email address you shared with us during the registration process, will receive an auto-generated invite email. This email will direct you with step-by-step instructions on how to access your personal medical record. If you have any questions or concerns you can call us at 715-468-2711 or 715-468-7833.